Design Packages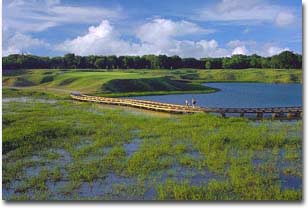 Jacobsen Hardy Golf Course Design is different from most architecture firms. Because our two principals maintain significant playing and teaching schedules, and because Peter Jacobsen and Jim Hardy are determined to properly devote themselves to each design opportunity, we purposely limit the number of projects JH undertakes. At the same time, Jacobsen Hardy is determined to work with clients of all means, be they private developers, municipalities, or public-private consortia.
Accordingly, JH has segmented its design services to reflect the amount of on-site participation from our principals, Peter Jacobsen and Jim Hardy. This approach allows us further flexibility within these three tiers, so please talk to us about creating a customized design package that meets your specific needs and budget.
The Signature
The "Signature" package has proved most popular and potent with our clients. Our signature design package offers the greatest involvement from both
Peter
and
Jim
, in addition to their full participation in those marketing/media opportunities associated with ground-breaking and grand opening.
The Premium
The "Premium" package involves fewer visits from
Peter
and
Jim
, but still involves his full participation at ground-breaking and grand opening.
Standard
Our "Standard" package avails a client of Jacobsen Hardy's award-winning design capabilities, including comprehensive on-site construction stewardship, but does not stipulate any site visits from
Peter
.