Jim Hardy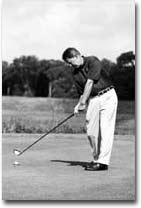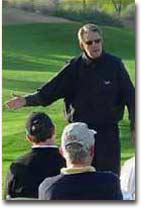 Learn more about Jim Hardy and
other fun things Jim's doing on his personal websites:

Few in the golf industry can boast the breadth of experience and record of achievement in as many diverse fields as Jim Hardy, who has made separate, lasting marks as a player, course builder, architect, teacher and author. An All-American player at Oklahoma State University in 1966, he served as a club pro before earning his PGA Tour card in 1968 and playing full time on the Tour through 1974. Over the next four years he taught at both the Golf Digest and GOLF Magazine schools, then co-founded, along with Shelby Futch, the John Jacobs Golf Schools and the Carol Mann Golf Schools, serving as director of both enterprises. During the 1980s, Hardy moved toward course development, forming a course-construction management company that helped develop some of America's leading golf communities and resorts. This led naturally to the formation of Jacobsen Hardy Golf Course Design in the 1990s.
Having grown up playing one of the world's most revered, classic golf courses, Prairie Dunes in Hutchinson, Kansas, Hardy understandably incorporated this traditional approach into his own design philosophy. His construction management company developed more than 60 golf course-related properties, including Bonita Creek, Ventana Canyon, Shadow Hawk, Conway Farms and Bonita Bay. Through these experiences - and by working alongside the likes of Tom Fazio, Jack Nicklaus, Arnold Palmer, Arthur Hills, Robert Trent Jones Sr. and Rees Jones - Hardy combined with his own traditional leanings a thorough understanding of key environmental concerns, timeliness, construction budgets and the general challenges associated with creating a golf course.
Jim's longstanding relationship with the PGA Tour and its members, extends to the ongoing design evolution at several Tournament Players Clubs (TPCs), the nationwide network of purpose-built venues developed by the PGA Tour. The tour retained Hardy as a design consultant on high-profile renovations of the TPC at Southwind in Memphis, Tennessee, and the TPC of Louisiana in Avondale, Louisiana. He is currently serving as co-designer, along with Steve Wenzloff of PGA Tour Design Services, for the total redesign of the TPC at Avenel in Potomac, Maryland.
On Sept. 6, 2007, Hardy was named the PGA of America's National Teacher of the Year, the highest instruction honor in North American golf. Hardy will be formally recognized at The PGA of America Awards Ceremony on Jan. 17, 2008, during the 55th PGA Merchandise Show in Orlando, Fla. In its August 2007 issue, Golf Digest presaged this distinction when it ranked Hardy #7 on its biennial listing of America's 50 Greatest Teachers. Hardy is also well known for his tutoring of PGA Tour pros; his current flock includes Peter Jacobsen, Scott McCarron, Tom Pernice, Bob Tway, Olin Browne, Duffy Waldorf, Jay Delsing, Stan Utley, Don Pooley and Graham Marsh.
Hardy's broader teaching reputation, and his lofty Golf Digest ranking, have surely been buoyed by the wide acceptance of the overarching swing theories detailed in his book and DVD series, "The Plane Truth for Golfers". Indeed, the book was first published in 2003 and the DVD released in 2006. It's no coincidence that Golf Digest ranked him 31st among America's Top 50 Teachers in 2003, 16th in 2005 and 7th in 2007. GOLF Magazine named Hardy to its list of Top 100 teachers in both 2004 and 2006.
The original Plane Truth for Golfers remains one of the most popular golf-instruction books of all time. Its companion DVD series has been equally well received, spawning a continuing education series, "Secrets From The Plane Truth Vault". Hardy's second book, The Plane Truth for Golfers: Master Class" was released in spring 2007.